Nankurunaisa In Japanese Hiragana Writing For Tattoo – Instant Download
A Japanese word (Okinawan Dialect) 'なんくるないさぁ (Don't worry. Everything will be alright)' is available for instant download. The Japanese Hiragana letters for Nankurunaisa are available in 3 different writing styles for your preference. Created and verified by a native Japanese speaker. 100% accurate and Your favourite tattoo artist DOES NOT need to know any Japanese.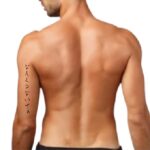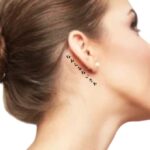 Nankurunaisa – Famous okinawan word for 'Everything will be alright' for tattoo
Nankurunaisa has 8 Japanese Hiragana letters
な
ん
く
る
な
い
さ
ぁ
The last letter 'a' make this word sound more easygoing, the typical characteristic of Okinawa people.
*Note: You mostly see the Nankurunaisa in 7 Hiragana letters on the web. My design has the extra 'a' in a small Hiragana letter for your preference. It is absolutely up to you to have this extra "a" or simply opt not to have it if you want to stick to the standard version. When I say 'the standard version', it means the style that you would find in a dictionary or text book. My design is more of colloquial.
Testimonial from Happy Customer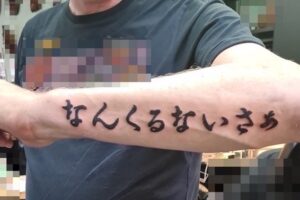 The work is done, great design great tattoo. Thnx,
Instant Download
There is a button to download the file right after checkout and no need to wait for me to send it to you. Then you just simply forward it to your favourite tattoo artist. The letters are 100% accurate and he/she does not need to know any Japanese. The file contains both calligraphy style and line art (Stencil).Stencil is what your tattoo artist must have to ink the tattoo as it serves as the outline to trace the artwork onto your skin.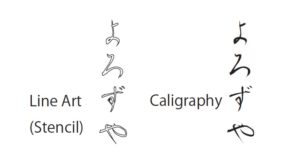 NOTE : The letters DO NOT NEED TO BE MIRRORED, they should appear just as it appears on the print-out.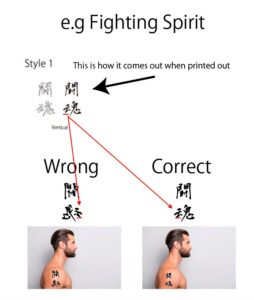 PDF or JPG?
All letters fits in a 22cm (8.66inch) x 8cm (3.14inch) frame. Depending on the number of letters, the size of each letter varies to match the sentence to the vertical limit of 22 cm and they may not fill the entire frame horizontally. New line starts after certain syllables if necessary or appropriate to do so (Please see the example image at the end of this page to see how it is laid out for this particular product)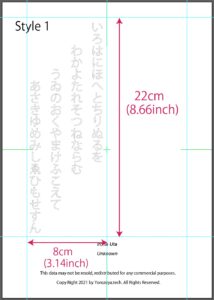 Please select the pdf version if you want to resize the letters to your perfect needs as it is illustrator-editable and resize-friendly. Your tattoo artist can make it bigger or smaller with no problem.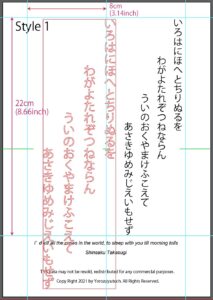 Here are the example files for your reference.
3 different styles
You have 3 writing styles to choose from for this design.
each style gives different impressions and I have summarised in the gallery above.
How to order
Just simply tick your preferred style and hit the 'purchase' button. You have 3 writing styles to choose from for this design. Each style gives different impressions. In a nutshell,
Style 1: Elegant, Delicate
Style 2: Chic, Sophisticated
Style 3: Earnest, Sincere