Japanese Writing Tattoo Idea 'Maverick' In Japanese Kanji Symbols | Brush Stroke & Calligraphy
'Maverick' in Japanese Kanji Symbols is available for instant download. The symbols are available in 3 different writing styles for your preference. Created and verified by a native Japanese speaker. 100% accurate and Your favourite tattoo artist DOES NOT need to know any Japanese.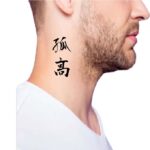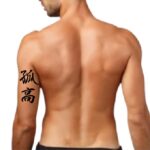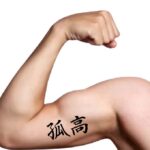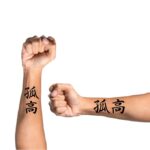 What is Kanji ?

Kanji is one of the 3 Japanese writing systems. It is a set of symbols that represent words or concepts. Samurai's 7 virtues are one of the most poplar Kanji tattoos that are simple yet have deep meanings
Kanji is often used to express resolutions, determinations, themes, values, ambitions etc by writing it down on a paper, and place it on the wall to make it works as a reminder every time you see it.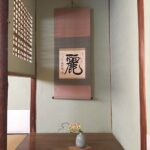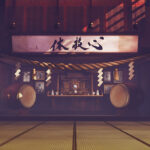 Maverick for Japanese Writing Tattoo Idea: Kanji meaning explained
Maverick in Japanese Kanji is 孤高 (read kokou) and consists of 2 kanji symbols below.
孤 : alone
高 : tall, above
Literal translation is something like 'alone and high above'. This word is used to describe someone who prefer to spend free time alone rather than in the company of others and who usually pursues activities independently rather than being accompanied by other people. someone who prefers to spend their spare time alone rather than in the company of others, and who prefers to do things on their own rather than with others. It's similar to 'a lone wolf'(一匹狼).
The difference between these two is that 'Maverick' in Japanese(Kokou) has a connotation of respect from others and being put on pedestal. There's no impression that this person is lonely and needing company. e.g. Jason Bourne. CEOs, Itachi Uchiha,
No Machine Translations = No More Kanji Fail
Kanji are very tricky scripts and some people end up with wrong/awkward kanji tattoos. Without proper understanding of the Japanese language and writing systems(require the use of 3 different scripts),  simply putting together the kanji obtained from Kanji generators might lead to Kanji tattoo fail. Even a celebrity like Ariana Grande got it wrong. (I'm glad she's got it fixed with the help of her tutor and she's happy with that Japanese script tattoo)
7 Rings in Japanese is 七つの指輪. Had she consulted a native Japanese speaker, her tattoo would've looked like this. #Japaneselettertattoo #Kanjitattoo #Japanesewritingtattoo pic.twitter.com/V5V2tJ1HlV

— Yorozuya.tech (@TechYorozuya) August 21, 2021
For this reason, it is best to consult a native Japanese speaker beforehand whether the kanji actually conveys the meaning you have in mind. To help people get the right Japanese writing tattoos, I started this online store. All letters here at Yorozuya.tech are verified by a native Japanese speaker, and you can download the letters right after purchase.
Instant Download
There is a button to download the file right after checkout and no need to wait for me to send it to you. Then you just simply forward it to your favourite tattoo artist. The letters are 100% accurate and he/she does not need to know any Japanese. The file contains both calligraphy style and line art (Stencil).Stencil is what your tattoo artist must have to ink the tattoo as it serves as the outline to trace the artwork onto your skin.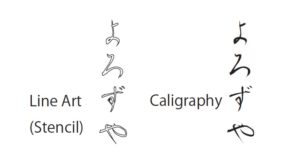 Horizontal & Vertical Directions
Both horizontal and vertical direction is used in the Japanese wiring and therefore, The file comes with both horizontal and vertical layout for your convenience and preference. Writing starts from left to right for horizontal lines whereas it is top to bottom for vertical lines.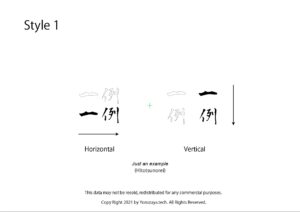 NOTE : The letters DO NOT NEED TO BE MIRRORED, they should appear just as it appears on the print-out.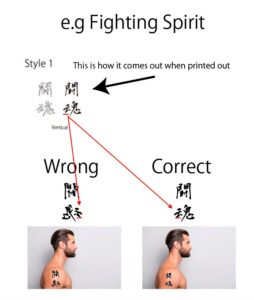 PDF or JPG?
As a rule of thumb,
jpg for fingers, behind the ear
pdf for arms, chest, shoulder, and other body parts
Each script approximately fits in a 2cm (0.8inch) x 2cm grid or slightly bigger and, in general,  this size is suitable for fingers, the back of the neck and behind the ear tattoo.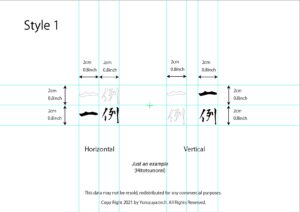 If you need to make it bigger for arms, chest, and other body parts, please select the pdf as it is illustrator-editable and resize-friendly. Your tattoo artist can make it bigger without the outline getting blurry.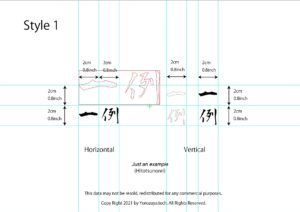 Nevertheless, please check with the example files.
If you are happy with the size of the letters and not do need to make it larger, then the "jpg" will do. But if you think you need to make it bigger or change the layout, positions, colours etc, then select the "pdf" just to be on the safe side as it is fully customisable to your likings. It might also be less work for your tattoo artist and cost less. (Please check with your tattoo artist)
3 different styles
You have 3 writing styles to choose from for this design.
each style gives different impressions and I have summarised in the gallery above.
How to order
Just simply tick your preferred style and hit the 'purchase' button. You have 3 writing styles to choose from for this design. Each style gives different impressions. In a nutshell,
Style 1: Elegant, Delicate
Style 2: Chic, Sophisticated
Style 3: Earnest, Sincere