Musashi Miyamoto, Samurai Quote For Tattoo – if you know the way broadly, you will see it in all things
The famous quote by Musashi Miyamoto, `if you know the way broadly, you will see it in all things` in Japanese letters, is available by an instant download for your tattoo design. Miyamoto Musashi was a legendary swordsman and philosopher whose words continue to inspire people around the world. His timeless wisdom and unique perspective on life make his quotes perfect for those seeking meaningful letter tattoos.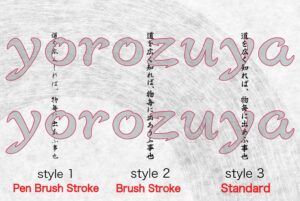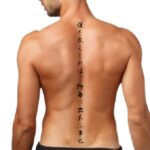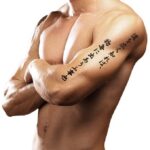 The quote is available in 3 writing styles to choose from (see the samples in my examples) . The design is created by a native Japanese speaker and 100% accurate. Your tattoo artist does not need to know any Japanese.
道を広く知れば、物毎に出あふ事也
if you know the way broadly you will see it in all things
Author : Musashi Miyamoto
This quote is from his famous book, 'The book of Five Rings'.
Miyamoto Musashi's quotes are more than just words – they're a way of life. His teachings on honor, discipline, and self-improvement resonate with people from all walks of life, and make for beautiful and meaningful letter tattoos. You can check his other inspirational quotes such as 21 precepts in his life philosophy, 'Dokkōdō' (The Way of Walking Alone) which is a short work written a week before he died in 1645.
Here are the 21 precepts.
For a complete set, click here.
Who is Musashi Miyamoto?
Musashi Miyamoto is one of the most famous samurais in Japan.
He is well known for his unique double-bladed swordsmanship(二刀流) and undefeated record in his 61 duels.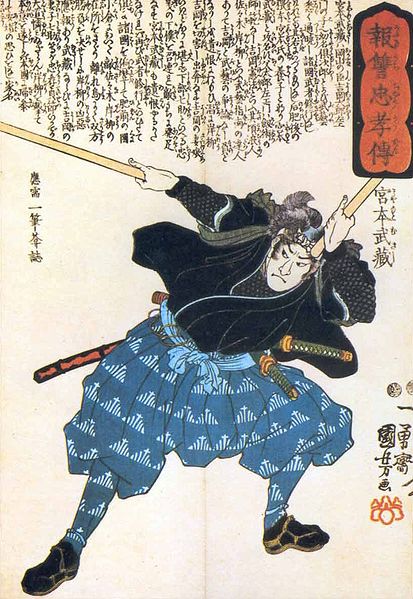 He is considered to be Kensei(剣聖), the sword saint.
Instant Download
There is a button to download the file right after checkout and no need to wait for me to send it to you. Then you just simply forward it to your favourite tattoo artist. The letters are 100% accurate and he/she does not need to know any Japanese. The file contains both calligraphy style and line art (Stencil).Stencil is what your tattoo artist must have to ink the tattoo as it serves as the outline to trace the artwork onto your skin.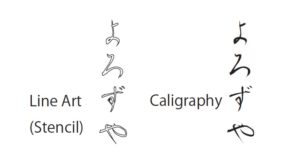 NOTE : The letters DO NOT NEED TO BE MIRRORED, they should appear just as it appears on the print-out.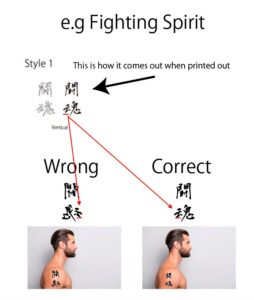 PDF or JPG?
All letters fit in a 22cm (8.66inch) x 8cm (3.14inch) frame. Depending on the number of letters, the size of each letter varies to match the sentence to the vertical limit of 22 cm and they may not fill the entire frame horizontally. New line starts after certain syllables if necessary or appropriate to do so (Please see the example image at the end of this page to see how it is laid out for this particular product)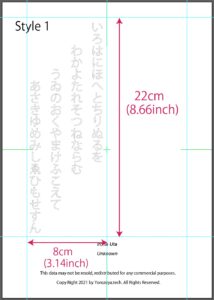 Please select the pdf version if you want to resize the letters to your perfect needs as it is illustrator-editable and resize-friendly. Your tattoo artist can make it bigger or smaller with no problem.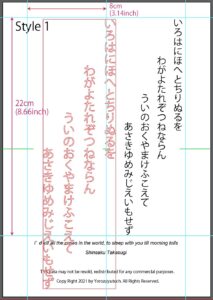 Here are the example files for your reference.
3 different styles
You have 3 writing styles to choose from for this design.
each style gives different impressions and I have summarised in the gallery above.
How to order
Just simply tick your preferred style and hit the 'purchase' button. You have 3 writing styles to choose from for this design. Each style gives different impressions. In a nutshell,
Style 1: Elegant, Delicate
Style 2: chic Sophisticated
Style 3: Earnest, Sincere