Haiku Tattoo (Poem) – Issa Kobayashi. A world of grief and pain, Flowers bloom, Even then
苦の娑婆や 桜が咲けば 咲いたとて
A world of grief and pain, Flowers bloom, Even then

*This world of pain, the cherries have bloomed, they bloom and yet …
Author : Issa Kobayashi
Available in 5 styles (see the samples in my examples above) .

Meaning
It might be helpful to note that Issa Kobayashi had a harsh time throughout his whole life and that has certainly affected the style of his poems. This haiku was written upon his child death.
The meaning of this poem is "There's no substance to happiness or misery" and there are 2 ways to interpret this haiku, Pessimistic or Optimistic. Whether you feel happiness (being optimistic) or misery (being pessimistic) depends on how you see the world (or the fact) . Your own subjectivity is the one and only decisive factor. '娑婆' or Sahā refers to the mundane world, essentially the sum of existence that is other than nirvana(涅槃).
In this mundane world, the fact that the cherry blossom is in bloom can be interpreted as cruel or hopeful.
In Issa's case, "how can flowers have the audacity to bloom in such a cruel word? (upon his child death)" or "Even in this cruel world, Flowers bloom"
We, human beings, are prone to make an issue out of nothing or even something we can enjoy. So from what we can learn from this haiku is "let's try not to make an issue out of what we can enjoy" and "In this cruel world good things still happen".
Reference :
Blyth, R. H. (1949). Haiku, Vol. 1: Eastern Culture. Tokyo. The Hokuseido Press. 168
↓ How it is read out in Japanese
Instant Download
You can download the file right after the purchase and no need to wait for me to send it to you. Then you just simply forward it to your favourite tattoo artist. The design is 100% accurate and he/she does not need to know any Japanese.
The file contains both calligraphy style and line art (Stencil).Stencil is what your tattoo artist must have to ink the tattoo, as it serves as the outline to trace the artwork onto your skin.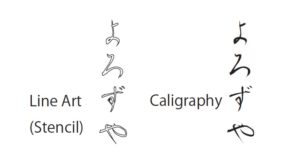 NOTE : the design DOSE NOT NEED TO BE MIRRORED, meaning it should appear on your skin/object just as it appears on the paper.
Depending on your purpose,  pick either jpeg or pdf
If you are looking to use the design just as it appears and not wanting to resize it, then the "jpeg" should be fine.
But if you are looking to
use it on a large object and need to resize
change the layout / position
(e.g, vertical▶️horizontal / angled,  etc)
then the "pdf" should be your choice as it will be less work for your tattoo artist, meaning costs less.
(You need to check with your tattoo artist though)
Click the link below for more information.
▶️ pdf or jpg ? Which one is right for me?
5 different styles
You have 5 writing styles to choose from for this design.
each style gives different impressions and I have summarised in the gallery above.
How to order
Just simply tick your preferred style and add it to the cart.
Click and have a close look at them

If you are not sure, please read through the page below or simply contact me.