Japanese Proverb On Trustfulness For Tattoo – True Samurai Never Goes Back On His Word
A Japanese Saying for tattoo that represents exactly what 'being trustful' means to Samurai is available for instant download. The length of the saying is suitable for (but not limited to) spine tattoo as well as on the ribs for guys. The letters are available in 3 different writing styles for your preference. Created and verified by a native Japanese speaker. 100% accurate and Your favourite tattoo artist DOES NOT need to know any Japanese.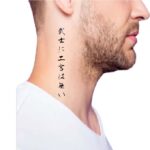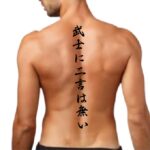 Japanese Saying on 'trustfulness', the Bushido virtue for tattoo
This proverb/saying represents exactly what 'trustfulness/Veracity', one of the 7 bushido(the way of samurai) virtues, means to Samurai .
Veracity, Trustfulness – Japanese Kanji Tattoo Idea From Samurai Virtues
The literal translation of this saying is like this.
Samurai has no second words
武士に: Samurai
二言は: second word
無い: no
For a Samurai, being honest and trustful is much more important than his own life. If he says something, he will do it no matter what, he will grow that thing into reality. True Samurai never goes back on his word because it is just dishonourable and shameful.
lying was not condemned as sin, but simply denounced as weakness, and, as such, highly dishonourable.

Nitobe, Inazo . Bushido: The Soul of Japan
Instant Download
There is a button to download the file right after checkout and no need to wait for me to send it to you. Then you just simply forward it to your favourite tattoo artist. The letters are 100% accurate and he/she does not need to know any Japanese. The file contains both calligraphy style and line art (Stencil).Stencil is what your tattoo artist must have to ink the tattoo as it serves as the outline to trace the artwork onto your skin.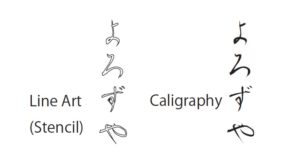 NOTE : The letters DO NOT NEED TO BE MIRRORED, they should appear just as it appears on the print-out.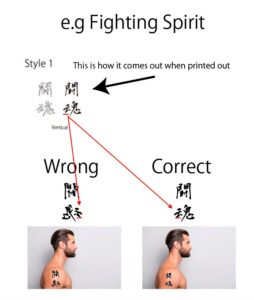 PDF or JPG?
All letters in any file with 'Proverbs' tag fits in a 22cm (8.66inch) x 8cm (3.14inch) frame. Depending on the number of letters, the size of each letter varies to match the sentence to the vertical limit of 22 cm and they may not fill the entire frame horizontally. New line starts after certain syllables if necessary or appropriate to do so (Please see the example image at the end of this page to see how it is laid out for this particular product)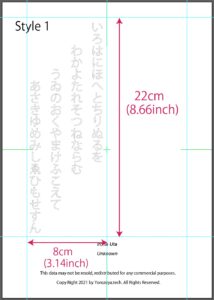 Please select the pdf version if you want to resize the letters to your perfect needs as it is illustrator-editable and resize-friendly. Your tattoo artist can make it bigger or smaller with no problem.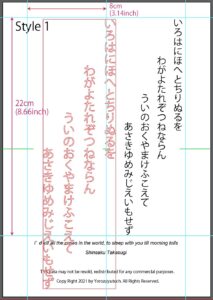 Here are the example files for your reference.
3 different styles
You have 3 writing styles to choose from for this design.
each style gives different impressions and I have summarised in the gallery above.
How to order
Just simply tick your preferred style and hit the 'purchase' button. You have 3 writing styles to choose from for this design. Each style gives different impressions. In a nutshell,
Style 1: Elegant, Delicate
Style 2: Chic, Sophisticated
Style 3: Earnest, Sincere