'Graceful' In Japanese Kanji Symbol. Simple One Descriptive Word Tattoo For Neck, Shoulder Behind The Ear.
A simple one word, 'Dignified' in Japanese Kanji script, is available for an instant download. This is an excellent tattoo for your neck, chest, shoulder and behind the ear regardless of gender. The design is available in 3 different writing styles for your preference. Written and verified by a Native Japanese. 100% accurate and Your favourite tattoo artist DOES NOT need to know any Japanese.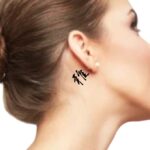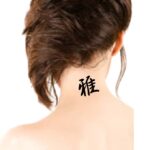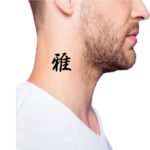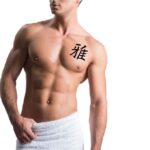 What is Kanji ?

Kanji is one of the Japanese writing systems. It is a set of symbols that represent words or concepts. Samurai's 7 virtues are one of the most poplar Kanji tattoos that are simple yet have deep meanings
You might have seen those asian hanging scrolls with some calligraphy letters on it like these.They represent themes, values, resolutions, ambitions, and convictions.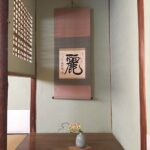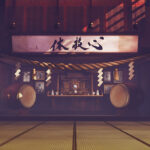 Getting Kanji tattoos is almost as if you are having one (or perhaps more?) of those letters on your body for the rest of your life.
Simple, single descriptive word for your tattoo
Dignified in Japanese is 雅 which is read miyabi. This single descriptive word is an excellent choice for your neck, shoulder, chest and behind the ear tattoo regardless of gender.
What is Kanji and why is it good for simple tattoo?
Simply put, it works like a picture or drawing that has a specific meaning with explanation. Kanji is one of the Japanese writing systems. It is a set of symbols that represent words or concepts and can have a variety of meanings and pronunciations depending on context. Since Kanji represents words and concepts of things, it is an excellent choice for simple tattoo. It works like 'a picture speaks a thousand words'. For example, the sound of 'Ka' by itself in English doesn't mean anything. In Japanese, however, the sound of 'Ka' can have different/multiple meanings depending on the kanji used, like the followings; fire(火), flower(花), a mosquito(蚊), a song(歌), scent(香), splendour(華), applaudable(嘉), etc. Check out other Kanji for your simple tattoo idea here.
No Machine Translations = No More Kanji Fail
Foreign lettering is exotic and can make great looking tattoos. Kanji tattoos are getting popular worldwide but as the saying goes 'there's no rose without a thorn', kanji are very tricky scripts and many people end up with wrong/awkward kanji tattoos. Even a celebrity like Ariana Grande got it wrong. (I'm glad she's got it fixed with the help of her tutor and she's happy with that Japanese script tattoo)
Ariana Grande's Japanese "7 Rings" tattoo actually means "small charcoal grill" https://t.co/yjdoP9i7Gk pic.twitter.com/tlBK0QArWg

— Stereogum (@stereogum) January 30, 2019
For this reason, it is best to consult a native Japanese speaker beforehand whether the kanji actually conveys the meaning you have in mind. It's an absolute honour that people opt in favour of Kanji and Japanese letters for their script tattoos.That's why I started this online store to help people get the right kanji and Japanese script tattoos. All letters here at Yorozuya.tech are written and verified by a native Japanese, and you can download the letters right after purchase.
Instant Download
There is a button to download the file right after checkout and no need to wait for me to send it to you. Then you just simply forward it to your favourite tattoo artist. The letters are 100% accurate and he/she does not need to know any Japanese. The file contains both calligraphy style and line art (Stencil).Stencil is what your tattoo artist must have to ink the tattoo as it serves as the outline to trace the artwork onto your skin.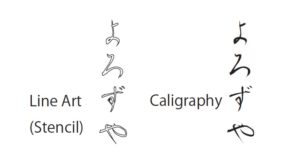 NOTE : The letter DOES NOT NEED TO BE MIRRORED, it should appear just as it appears on the print-out.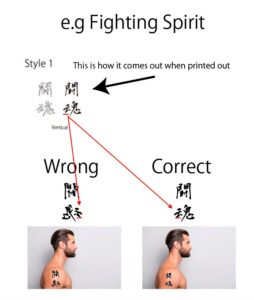 PDF or JPG?
As a rule of thumb,
jpg for fingers, behind the ear
pdf for arms, chest, shoulder, and other body parts
The script in any download files with 'One Word' tag approximately fits in a 2cm (0.8inch) x 2cm grid and, in general,  this size is suitable for finger tattoos and behind the ear tattoo.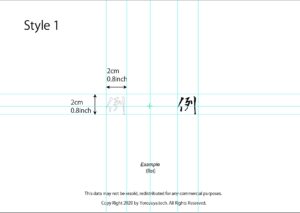 If you need to make it bigger for arms, chest, and other body parts, please select the pdf as it is illustrator-editable and resize-friendly. Your tattoo artist can make it bigger without the outline getting blurry.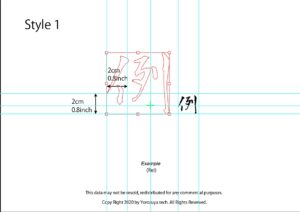 Nevertheless, please check with the example files.
If you are happy with the size of the letters and not do need to make it larger, then the "jpg" will do. But if you think you need to make it bigger or change the layout, positions, colours etc, then select the "pdf" just to be on the safe side as it is fully customisable to your likings. It might also be less work for your tattoo artist and cost less. (Please check with your tattoo artist)
▶️ pdf or jpg ? Which one is right for me?
3 different styles
You have 3 writing styles to choose from for this design.
each style gives different impressions and I have summarised in the gallery above.
How to order
Just simply tick your preferred style and hit the 'purchase' button. You have 3 writing styles to choose from for this design. Each style gives different impressions. In a nutshell,
Style 1: Elegant, Delicate
Style 2: Chic, Sophisticated
Style 3: Earnest, Sincere