Sakura & Samurai Kanji Tattoo- Japanese Proverb On Aesthetics Of Perishing
A Japanese Saying that well represents one of the Japanese aesthetics, namely, 'aesthetics of perishing/destruction'(滅びの美学:Horobi no Bigaku), is available for instant download. The length of the saying is suitable for (but not limited to) spine tattoo as well as on the ribs for guys. The letters are available in 3 different writing styles for your preference. Created and verified by a native Japanese speaker. 100% accurate and Your favourite tattoo artist DOES NOT need to know any Japanese.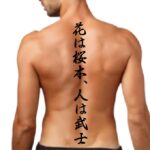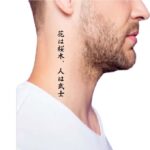 Japanese Saying on aesthetics of perishing for tattoo
This proverb/saying has a very interesting implicit meaning and well represent the Japanese aesthetics of perishing. The translation of the saying is something like this.
the [best] blossom is the cherry blossom; the [best] man is the warrior
花は: flower is
桜: cherry blossom
木: tree/wood
人は: man is
武士 : warrior/bushi
Samurai and Sakura, what do they have in common?
Just as cherry blossoms are (considered) the best of all flowers, samurai were the best of all people. Samurai and Sakura (cherry blossom) have something in common. They are both glorious and highly regarded. Yet they are both prone to sudden end, and when their lives come to an end, they still do so very beautifully with no hesitations. Cherry blossoms bloom for only a few days and fall, but when they fall, they are still magnificent and beautiful. There are specific terms for cherry blossoms falling beautifully, 'Sakura Blizzard' (桜吹雪) and 'Sakura falling as if it's dancing (桜舞い散る) . Samurai life is likened to this characteristics of Sakura. While it is glorious and highly regarded when they are alive, it is prone to a sudden end during military service or willing to commit Seppuku for Honour, one of the 7 virtues of Bushido (the way of Samurai). A true samurai spares no life.
Instant Download
There is a button to download the file right after checkout and no need to wait for me to send it to you. Then you just simply forward it to your favourite tattoo artist. The letters are 100% accurate and he/she does not need to know any Japanese. The file contains both calligraphy style and line art (Stencil).Stencil is what your tattoo artist must have to ink the tattoo as it serves as the outline to trace the artwork onto your skin.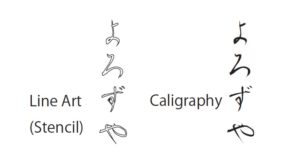 NOTE : The letters DO NOT NEED TO BE MIRRORED, they should appear just as it appears on the print-out.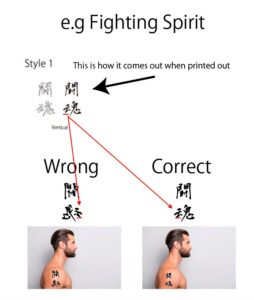 PDF or JPG?
All letters in any file with 'Proverbs' tag fits in a 22cm (8.66inch) x 8cm (3.14inch) frame. Depending on the number of letters, the size of each letter varies to match the sentence to the vertical limit of 22 cm and they may not fill the entire frame horizontally. New line starts after certain syllables if necessary or appropriate to do so (Please see the example image at the end of this page to see how it is laid out for this particular product)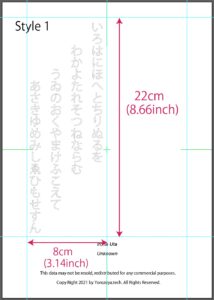 Please select the pdf version if you want to resize the letters to your perfect needs as it is illustrator-editable and resize-friendly. Your tattoo artist can make it bigger or smaller with no problem.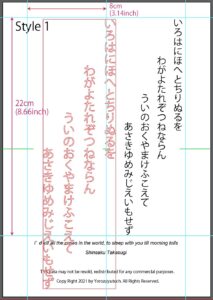 Here are the example files for your reference.
3 different styles
You have 3 writing styles to choose from for this design.
each style gives different impressions and I have summarised in the gallery above.
How to order
Just simply tick your preferred style and hit the 'purchase' button. You have 3 writing styles to choose from for this design. Each style gives different impressions. In a nutshell,
Style 1: Elegant, Delicate
Style 2: Chic, Sophisticated
Style 3: Earnest, Sincere