Thank you very much for visiting Yorozuya.tech! This web store is to help people instantly download 100% accurate and correctly-stroked Japanese texts with just a few clicks. All text here are verified by a native Japanese speaker. You just need to forward the file to your favourite tattoo artist and they do NOT need to know any Japanese.
Kanji/Japanese writing tattoo has been catching on worldwide but sadly, it is not uncommon to spot wrong, botched kanji tattoos on people. I'm here to help you get the right kanji tattoos. When I say 'wrong' and 'botched', I mean they are;
not conveying the correct meaning
imbalanced, looking squashed
not making any sense
upside down, mirrored
written with wrong stroke orders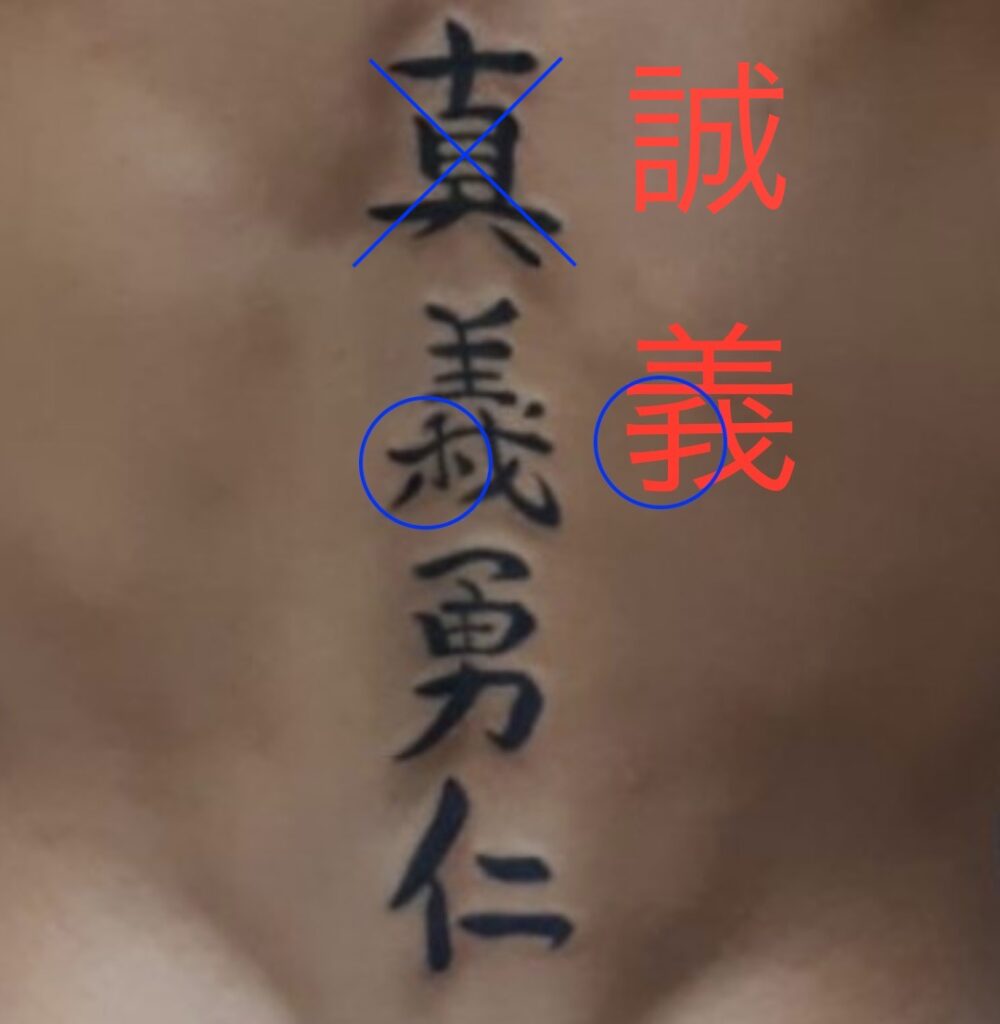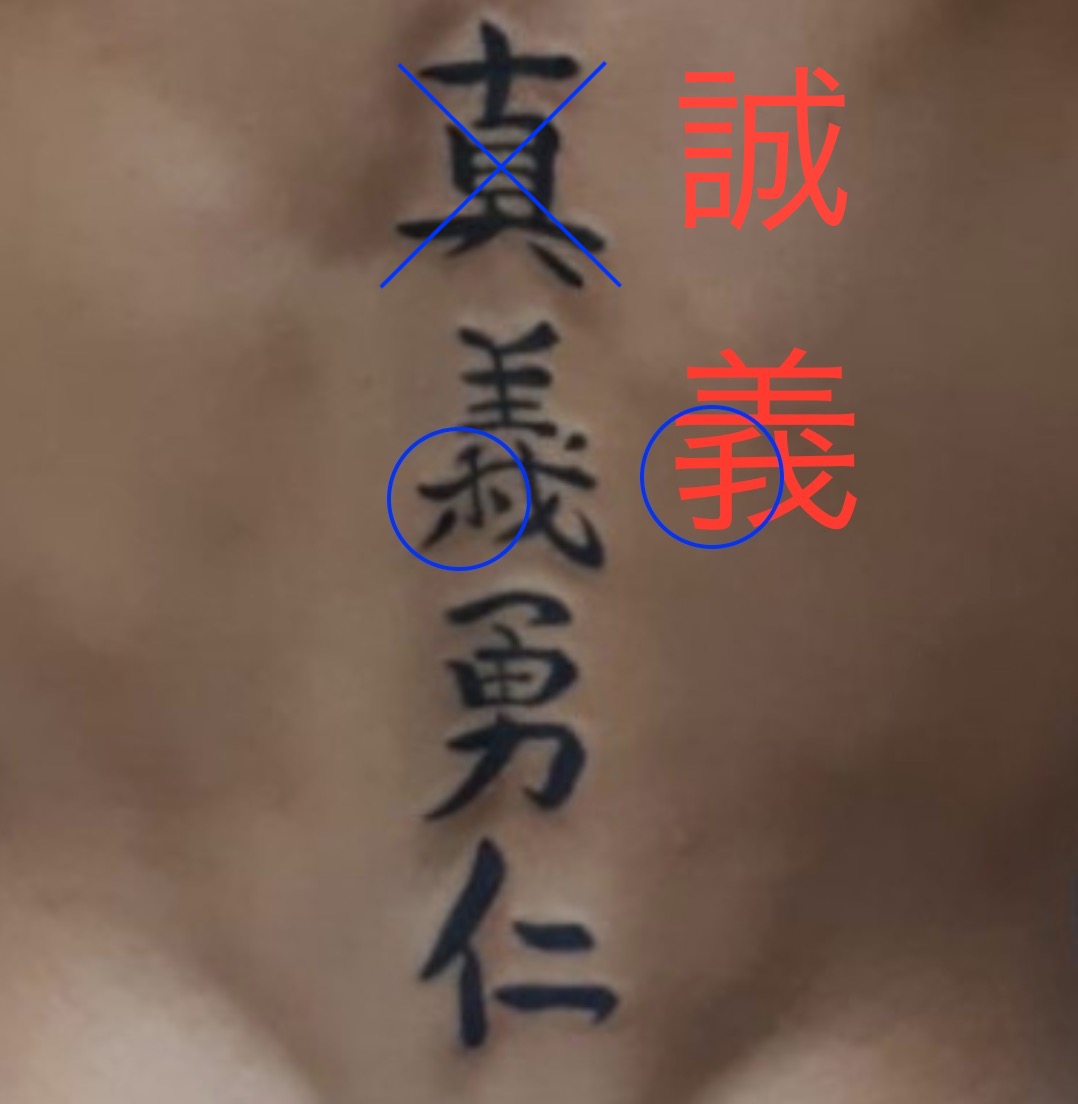 There are many Kanji tattoo ideas on the Internet but these sources are the main culprits of Kanji tattoo fails.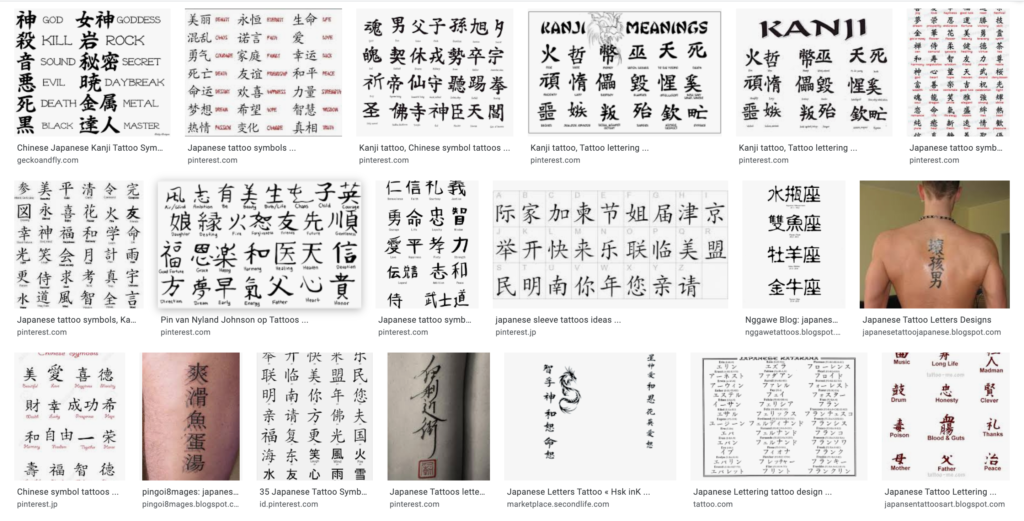 I, as a native Japanse, can instantly detect faulty kanji and incorrect explanations like below.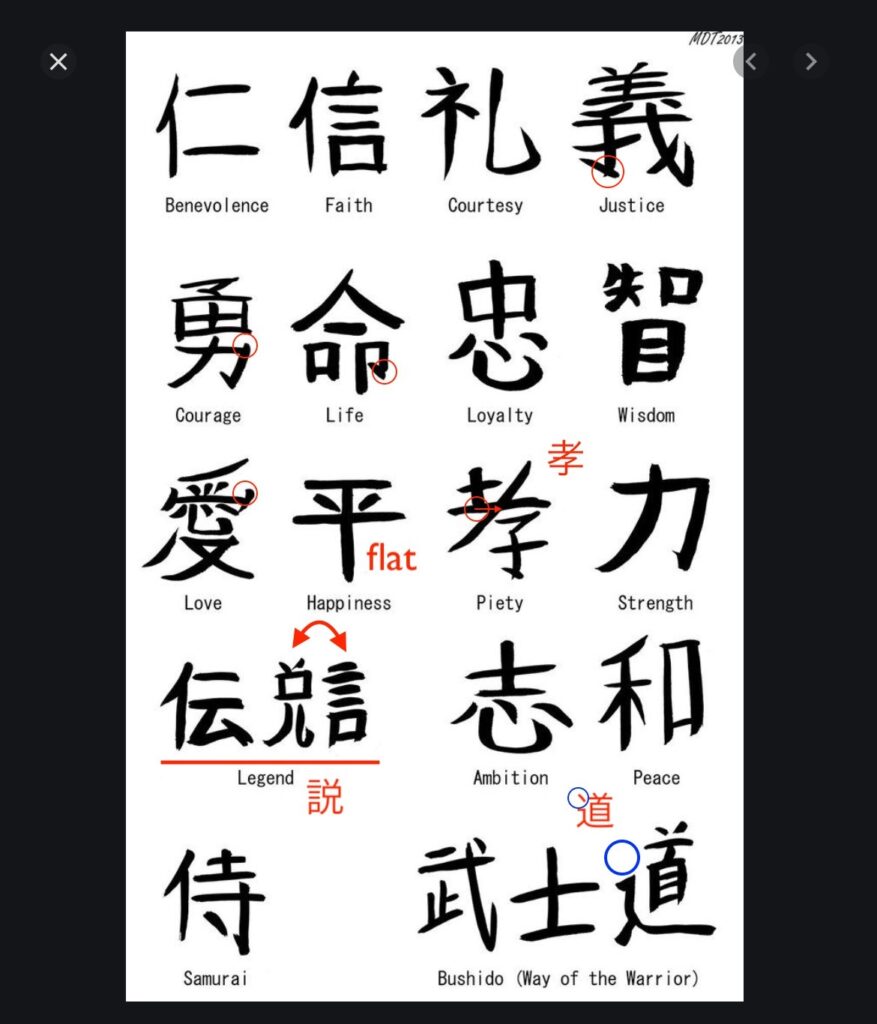 Bushido : the third kanji lacking the dot
Legend : misplaced
Happiness : it actually means flat
Piety : the vertical line is not landing on the middle of the horizontal line
Justice, Life, Courage, Love : wrong stroke orders (the vertical line should not stick out)
Why Kanji generators are not always right
Kanji generators are useful when converting English to Kanji symbols. However Kanji symbols carry multiple meanings and this causes 2 problems for non-Japanese speakers.
Problem 1: Search result showing several Kanji options
Here's the search result of 'pain'. Each Kanji conveys different connotations. The first Kanji at the top means ouch and pain more like as symptoms of wounds, injuries and disease. The second kanji from the top represents more like scar, wounds, cuts.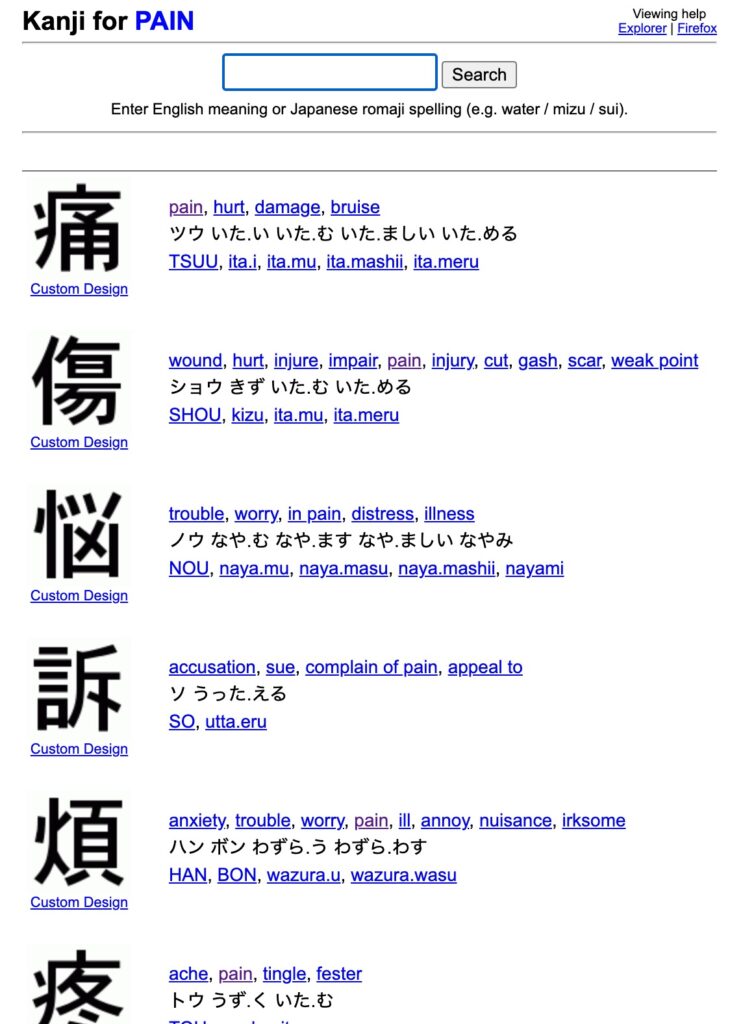 The most appropriate Kanji for 'pain' in this case is 苦, which didn't show in the result.
Problem 2 : Combinations of Kanji result in completely different meanings
Simply combining several kanji together might result in a word that has a completely different meaning like below.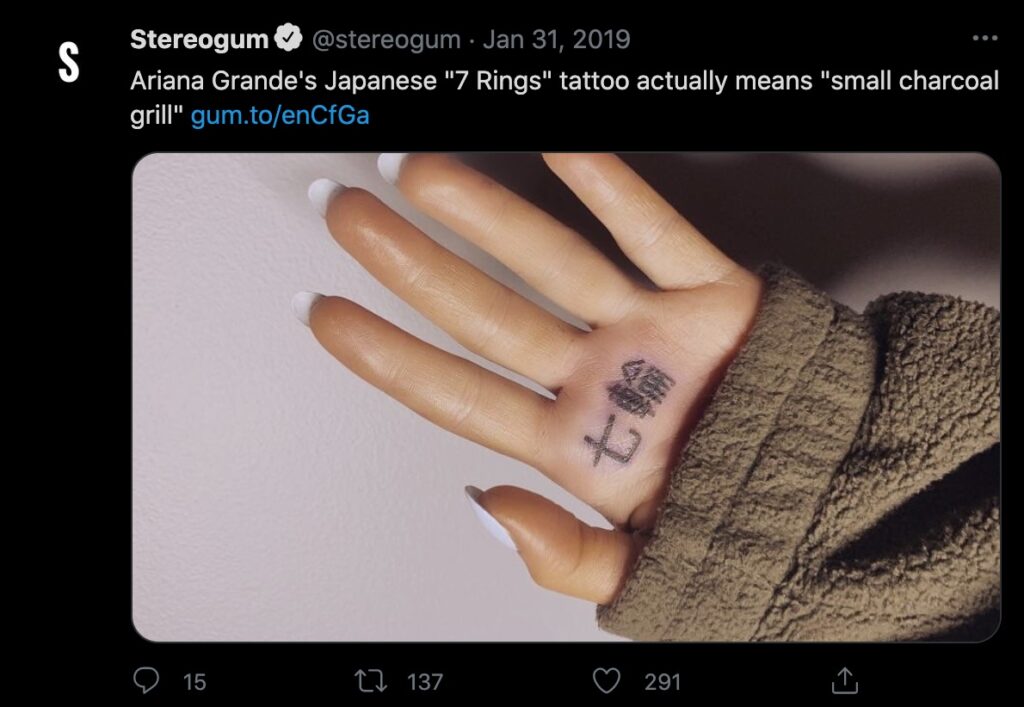 She wanted '7 rings' and combining 'seven'(七) and 'ring'(輪) together will change its meaning to Japanese small charcoal grill called 'Shichirin'.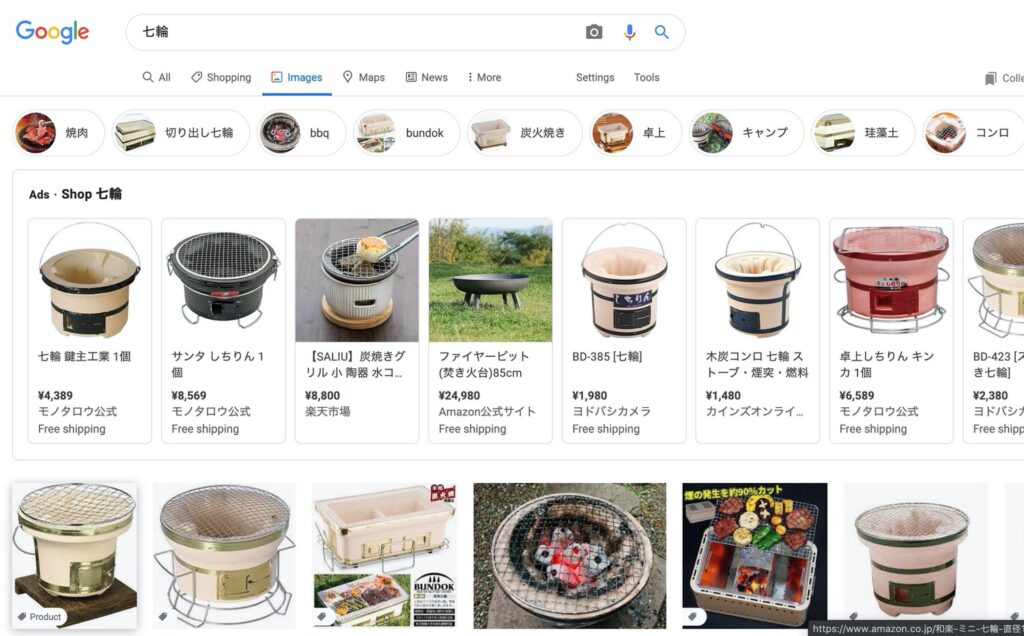 '7 rings' in Japanese is written 七つの指輪(5 characters). So if she had consulted a native Japanese speaker beforehand, not only could she have avoided this mistake but also she could have had the correct Japanese letters that perfectly fits on her palm (base of each 5 fingers)
Here's another example of Kanji combination from a video game that resulted in a different meaning.
The Kanji for pain in this case seems appropriate as he is a fighter and his attacks surely give pain to the opponent. However combining that kanji with 'wind' will change the meaning to 'Gout'. The fact that every Kanji symbol carrying multiple meanings means they work like variables in mathematics and simply combining them is risky.
Writing style matters
Just like different fonts are available in any language, there are a wide range of writing styles in the Japanese languages that gives different impressions such as sophisticated, firm, elegant, pop, cute, laid back, childlike. So matching the writing style to your intended meaning also plays an important factor.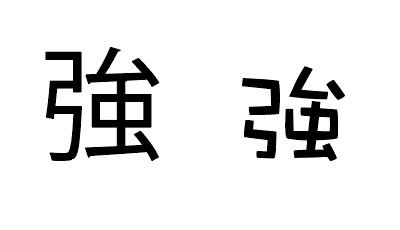 This web store offers 3 writing styles to choose from.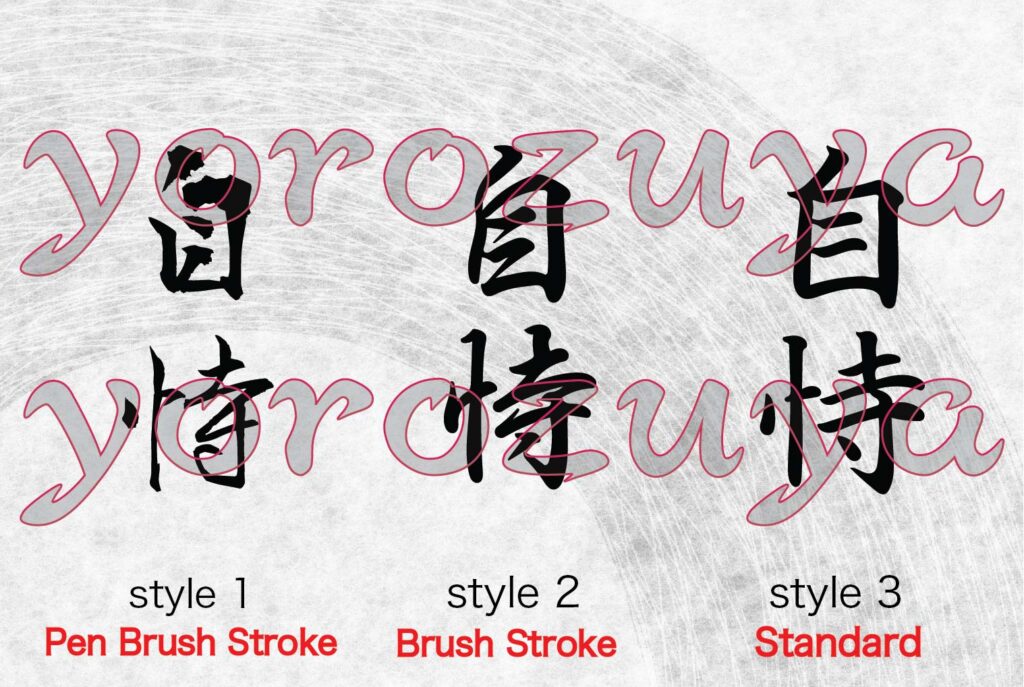 Style 1: Elegant, Delicate
Style 2: Chic, Sophisticated
Style 3: Earnest, Sincere
How to avoid Kanji tattoo fails/Japanese writing mistakes
In order to prevent this type of Kanji fail from happening, one needs proper understanding of Japanese writing systems. Japanese writing system requires the use of 3 different alphabets(symbols)
Kanji : over 2,000 (common-use)
Hiragana : 46 symbols
Katakana : 46 symbols
Getting correct Japanese writing tattoos calls for proper combinations of these 3 different scripts as well as avoiding unintended kanji fails at the same time. If you already have a Japanese writing for tattoo, the easiest solutions is to have the word proofread by a native Japanese speaker. I have a proofreading service for those who don't have a native Japanese speaker friend or acquaintance.
→Proofreading your Kanji tattoo design
Literal (machine) translations vs Dynamic translations
When it comes to translating from English to Japanese or translations in general, it is important to be aware that literal translations do not always work. They might end up;
1: sounding awkward, unfamiliar to the native speakers
2: completely losing the meaning in translation.
This means that literal (machine) translations should also be proofread by a native speakers.
Literal translation for Death before dishonour
When I google-translated 'Death before dishonour', the outcome was '不名誉の前の死'. This is not wrong but sounds awkward and most native Japanese speaker won't probably understand what this phrase is trying to say.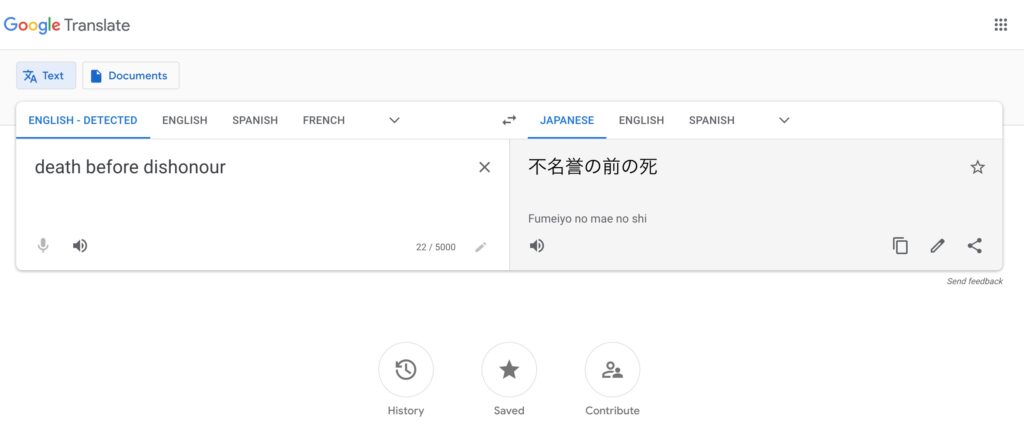 In this case, if the word 'before' had been translated as 'yorimo (よりも)' in Hiragana symbols, the meaning would have been clearer. '不名誉よりも死', which sounds more natural and easy to understand the meaning.
→Death Before Dishonour In Japanese Symbols For Tattoo
Dynamic translation for 'Death before dishonour'
Dynamic translation means that you put much value on the meaning, including different idioms, emotive meaning, context and background. So the words might stray considerable from its literal translation
The concept of 'Death before dishonour' was a common attitude and desired practice/behaviour among Samurai warriors and it is 'Nakoso Oshikere'(名こそ惜しけれ), which means (Spare your honour/name). Here is the famous quote on 'death before dishonour' from a real Samurai, chikaharu minamoto, who called out this phrase to young samurai warriors before the Hōgen rebellion (AD1156) to fire them up for the battle.
命な惜しむな、名を惜しめ (Inochi na oshimuna, Na wo shime)

Do not spare your life, spare your honour
Honour is one of the 7 virtues of Bushido (The way of Samurai) and highly regarded by Samurai warriors. Life is way too cheap if they can obtain or sustain their honour.
→Death Before Dishonour – Samurai Quote In Japanese Writing For Tattoo
This web store is focusing more on dynamic translations as well as literal translations at times. All Japanese texts are 100% accurate and natural with correct stroke orders and they are just a few clicks away.