Ikigai (生き甲斐) – Japanese Word Tattoo for 'Finding Purpose In Life' in Kanji Calligraphy
Tattoo designs for a Japanese word 'Ikigai'(生き甲斐)are available for an instant download and you have 5 different kanji calligraphy styles to choose from.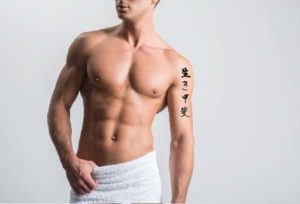 *Please note that Ikigai is also written as 生甲斐  and 生きがい.
Meaning of  'Ikigai'(生き甲斐)
Ikigai is a Japanese concept that means 'a reason for being" and the word is a combination of  'Iki' and 'kai'(gai).
*Don't get confused with 'iki'(粋) for chic (same sound but different meaning)
'Iki' in 'Ikigai' is written 生き and translates to 'life', 'to live' and 'alive' while 'gai' is spelt 甲斐 and used to describe 'value', 'worth' and 'avail'.
So ikigai is all about 'having/finding joy in life' which will give you the sense of life being made worthwhile as well as being motivated to live.
Psychologist Michiko Kumano describes ikigai as
eudaimonic well-being, as it "entails actions of devoting oneself to pursuits one enjoys and is associated with feelings of accomplishment and fulfillment"
As you can see in the image below, Ikigai stands within the crossover of these four points.
What you love
What the world nees
What you can be paid for
What you are good at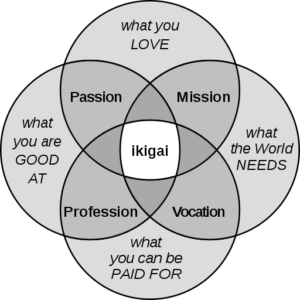 Reference
Kumano, Michiko (2018-06-01). "On the Concept of Well-Being in Japan: Feeling Shiawase as Hedonic Well-Being and Feeling Ikigai as Eudaimonic Well-Being". Applied Research in Quality of Life. 13 (2): 419–433
What you get
Each design comes with calligraphy style including line art (Stencil)
Stencil is what your tattoo artist must have to ink the tattoo, as it serves as the outline to trace the artwork onto your skin.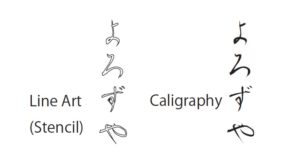 NOTE : the design DOSE NOT NEED TO BE MIRRORED, meaning it should appear on your skin/object just as it appears on the paper when you print it out.
Depending on your purpose,  pick either of these files
Medium Resolution jpeg
OR
Illustrator Editable pdf
Click the links below to download the demo (examples) .
When you make a purchase, you will be redirected to the download page.
Download and print it out / send it to your favourite tattoo artist.
The design is 100% accurate and authentic. and your tattoo artist does not need to know Japanese.
Available in 5 different writing styles
You have 5 writing styles to choose from for this design.
each style gives different impressions and I have summarised in the gallery above.
Which format is right for me?
If you are looking to use the design just as it appears and not wanting to resize, then the "jpeg" should be fine.
But if you are looking to
use it on a large object and need to resize
change the layout / position
(e.g, vertical▶️horizontal / angled,  etc)
then the "pdf" should be your choice as it will less work for your tattoo artist, meaning costs less.
(You need to check with your tattoo artist though)
Click the link below for more information.
▶️ pdf or jpg ? Which one is right for me?
Before making a purchase
PLEASE MAKE SURE YOU READ THE PAGE BELOW to avoid buying wrong items and get exactly what want.