Give Everything You Got (喫茶喫飯) – Zen Word For Tattoo in Japanese Brush Stroke Kanji
A Zen word 'Give Everything You Got' for your kanji tattoo design is available for an instant download and you have 5 different kanji calligraphy styles to choose from. Your favourite tattoo artist DOES NOT need to know any Japanese.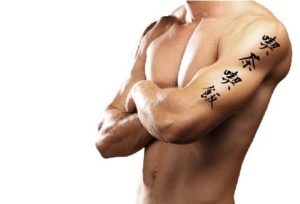 Explanations and Interpretations
This Zen word has 4 kanjis, which are
喫 : to savour
茶 : tea
喫 : to savour
飯 : food
This Zen word teaches us to focus on what is right before you, carry out your tasks mindfully.
For example, instead of just moving your mouth to drink tea or eat while thinking about other things, focus only on drinking the tea/food when having tea/food. If we focus on savouring each cup and each serving in front of us, we will be able to appreciate the people who prepared it and the people who made the ingredients. By focusing on what you are facing right here, right now, you will be able to get the joy of your true nature.
Instant Download
You can download the file right after the purchase and no need to wait for me to send it to you. Then you just simply forward it to your favourite tattoo artist. The design is 100% accurate and he/she does not need to know any Japanese.
The file contains both calligraphy style and line art (Stencil).Stencil is what your tattoo artist must have to ink the tattoo, as it serves as the outline to trace the artwork onto your skin.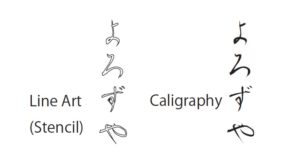 NOTE : the design DOSE NOT NEED TO BE MIRRORED, meaning it should appear on your skin/object just as it appears on the paper.
Depending on your purpose,  pick either jpeg or pdf
If you are looking to use the design just as it appears and not wanting to resize it, then the "jpeg" should be fine.
But if you are looking to
use it on a large object and need to resize
change the layout / position
(e.g, vertical▶️horizontal / angled,  etc)
then the "pdf" should be your choice as it will be less work for your tattoo artist, meaning costs less.
(You need to check with your tattoo artist though)
Click the link below for more information.
▶️ pdf or jpg ? Which one is right for me?
5 different styles
You have 5 writing styles to choose from for this design.
each style gives different impressions and I have summarised in the gallery above.
How to order
Just simply tick your preferred style and add it to the cart.
Click here to have a closer look at them.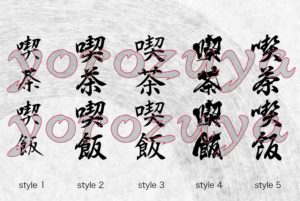 If you are not sure, please read through the page below or simply contact me.